Waves crashing on shore, seagulls cawing, sea spray gently misting your face, and the scent of tropical coconut suntan oil – ahh, to be at the beach. Up north the leaves have fallen off the trees, there is a chill in the air, and people are excited about the holidays. However, in a few weeks, the holidays will be over, and there will just be those bleak, cold, dark, endless days of winter left. It is times like these, I am glad I live in sunny south Florida. Why not plan a trip down here and join me? I initially wrote this piece about Sanibel Beach last fall, but I decided to update it with additional information to help in trip planning.
---
This post contains sponsored links. Please read full disclosure if you would like additional details.
How to have a family vacation without ripping your hair out
Have you ever planned a family vacation that you thought was going to be really great, but it turned out just the opposite? You put a lot of time into planning where to stay, what activities to do, where to eat. Then reality took over. The kids whined about being tired. They weren't interested in sightseeing. Everyone's schedules were thrown off because the sightseeing interfered with meals. Everyone had stomach aches and gained ten pounds from eating out for three meals per day. You yelled at your kids for complaining , but in reality you were worn out too. There was so much rushing around you needed a vacation after your vacation. I've been there.
Our goal was to plan a family vacation for all ages to enjoy, with no hustle and bustle and lots of beach time for my husband and myself. The first year, we took our 9 year old daughter, our adult daughter, her boyfriend, and her 2 year old little girl. Anyone that has traveled with family knows that it is hard to plan a vacation everyone is happy with. We wanted to find a place where we could make our own meals, stay in one unit, and walk wherever we needed to go, independent of each other. We decided on a condo on Sanibel Beach. However, if you want something even more laid back, try Siesta Key, which is a little further north.
Where is Sanibel Beach?
Sanibel and Captiva are islands located at the south western part of Florida. As far as Sanibel Beach directions, you can travel west on 75N across Alligator Alley ( Everglades Parkway) from the Miami/ Fort Lauderdale area. From there, follow the signs for Sanibel. From Tampa take 75S and again, follow the signs for Sanibel/Captiva.
The Sanibel Beach weather attracts snowbirds and tourists alike, during the winter months with average daily temperatures of 75F and an average nightly temperature of 57F. The winter is the reason Florida is known as the Sunshine State. Summer is more of a haven for locals, as temperature get into the 90s during the day and high 70s at night. The rainy season, which is also hurricane season lasts from June 1st through November 30th, with the worst storms in the middle of the season.
Sundial Resort Sanibel Beach
We found a 3 bedroom unit facing the beach. My husband and I were able to enjoy our morning coffee on the balcony each morning while watching the sun rise in the east. Then in the evening, we would turn our heads the other direction to watch it set while enjoying a glass of wine. The master bedroom had its own bath and separate entrance to the balcony.
Our 9 year old daughter and our granddaughter shared the room next to us which had 2 full size beds. Our older daughter and her boyfriend shared the den which had a queen size bed off the kitchen. The unit was on the 2nd floor with the first floor being parking and storage. A walk down the spiral staircase on our balcony brought us to a first floor screened patio. This provided a great place to store our beach gear and hang those wet towels to dry.
Time to Hit Sanibel Beach
The beach was a short walk past a pond and over a boardwalk through a wildlife area. During our stay we spotted numerous brown rabbits, a black snake, and an armadillo. The area is also home to nesting turtles so patio lights are not permitted at night. Once on the beach we had miles of white sand to choose from. Sanibel is known for its seashells so we ended up with buckets full. The first year, it had stormed the night before we got there. Shells and things from the sea littered the beach. We spend hours studying sand dollars and scallop shells. We ended up buying a book to help us identify what we found.
Sanibel island beaches are known as the Seashell capital. One morning we stumbled across the filming of Good Morning America during an early morning walk. It was national seashell day and they were filming extras shelling on the beaches. We had seen them the day before being given instructions although at the time we didn't know what it was about. Sanibel island even has a shell museum.
The kids spent hours building sand castles and playing in the water while we lounged in the sun. When they got bored our older daughter and her boyfriend would take the younger ones to the pool by the condo. My husband and I would use this opportunity to walk to the main building of our beach resort, where there was a tiki bar and sip tropical drinks and grab a bite to eat.
Adventure Awaits in Sanibel Beach
We wanted to try some outdoor activities while here. Paddle Board Sanibel rents kayaks and paddle boards by the week. They will drop them off to you and give you a quick lesson on how to use them. I had kayaked before so that came naturally to me, but the paddle boarding was something new. I was terrified I would lose my balance, fall off the board, hit my head, and get knocked unconscious. However this fear disappeared towards the end of the trip when I spotted some dolphins. It was as if the dolphins were calling me. Everything else drained from my mind and I stood up and paddled towards those dolphins. It was one of the most serene experiences in my life. The second time we vacationed at Sanibel island beach, my son and his friend came. He tried paddle boarding and loved it.
Check out these links if you want to buy your own equipment:
Dolphin Sighting
Prior to seeing a dolphin while paddle boarding, we had booked a Dolphin Sighting Cruise. The trip lasted a couple of hours. My daughter got to steer the boat. Our captain taught us about the dolphins. Snacks were provided and there was a restroom on board. Check Trip Advisor for tour options.
If you want to take in some culture during your trip, head to nearby Fort Myers. While there explore the winter homes of Thomas Edison and Henry Ford. This facility sits on 20 acres. Learn about Edison's inventions in his laboratory. Check out some old time cars in the Gallery. If you want to try your hand at inventing you can get hands on experience at the Spark Lab where activities incorporate science, technology, engineering, math, and art. The estate takes you on a journey through time as you explore their summer homes, grounds, and learn about their work.
Sanibel Sea School
Sanibel Sea School is a great way to incorporate hands on learning with a fun vacation for your kids. The school is located at the Sundial Resort but is available for anyone. The second year we stayed here, our daughter, then 10 decided she didn't really like vacationing at the beach. However, at the time she was really into nature and animal habitats. We signed her up for several sessions at the sea school which she loved. Sessions are usually half a day either morning or afternoon. For a full day just send a lunch with your child.
The Sea School is open to those between the ages of 6 and 13. Groups usually have one leader per 10 children. Classes have fun titles such as Urchins, Dollars, and Stars or Sharks are Fish, Not Foe. Our daughter took classes on jellyfish, sharks, and sea turtles. They divide the class time between classroom learning, hands on outdoor activities, and sometimes an art project.
Having our daughter in Sea School allowed my husband and I time to relax on the beach without hearing I'm bored. The Sea School was located in the main building of Sundial Resort. We would usually pick her up from her class and then grab a drink and a bite to eat at the Tiki bar while she swam in the main pool.
What to Bring to Sanibel, Florida
I chose these links to make your beach vacation more enjoyable:
Check before you go, but most places provide their own beach chairs, umbrella, basic pails and shovels, and blow up floats. Sanibel is a two hour drive from our south Florida home so we brought our own beach gear since we were driving a minivan. We also brought a large cooler on wheels for easy transport out to the beach.
Food
Nearby Fort Myers has a BJ's warehouse store so we usually made a trip there to stock up on supplies. Easy foods make vacationing more enjoyable since you don't have to spend a lot of time cooking. Sandwich supplies, fruits, raw veggies, cheese sticks, all are easy and healthy things to pack for a day at the beach or for a quick meal at the condo. We usually stock up on yogurt and protein bars for breakfast, and pb&j is always a good staple food that won't go bad. Easy dinners are spaghetti or tacos. If you cook up a bunch of taco meat everyone can easily recycle it as an extra meal of nachos. Make sure to stock up on bottles water and Gatorades to stay hydrated in the heat.
Here are some additional items you may want to bring. I always bring Clorox wipes to sanitize everything when I stay somewhere. Also, most places have utensils, plates, and cooking gear, but may not have storage for leftover food. I make sure to bring Ziploc bags, foil, and plastic wrap.
Our teen age son and his friend enjoyed the freedom this resort allowed them. They could go to the pool or beach without us. When they got hungry they had the option of heating up food in the microwave or walking over to the pizza place at the main building.
This made for a great family vacation. It had something for everyone and was a great way to get the kids outdoors and away from the video games. In addition, my husband and I had some time to ourselves, and the we took the whole week at a relaxed pace. I long to return.
Sanibel Beach Hotels
What beaches are on Sanibel Island?
Just north of Sanibel Beach, you will find Captiva Island. Captiva has limited parking and no public restrooms, although there are Port-o-Lets at the end of the road at Captiva Drive. Because of its limited amenities, this beach park is less crowded. Due to its location, facing west, it is also a great place for watching the sunset.
What time does Sanibel Beach close? It seems, from my research that these beaches are open 24 hours. Please let me know if you find differently. However, no open fires are allowed, and alcoholics beverages are prohibited November through May. While Sanibel Beach shells are available for collecting, they prohibit taking shells that are home to live creatures.
J.N. Ding Darling National Wildlife Refuge
For viewing live creatures, check out the Darling National Wildlife Refuge found on the north side of the island. This national wildlife refuge is a great place for bird watching. To explore the refuge yu can drive, hike or bike. Trams tours are available, as well as concessions. If you have a canoe, kayak, or paddleboard you can go on a guided tour of Tarpon Bay. Fishing and boating are permitted, but check the website for restrictions.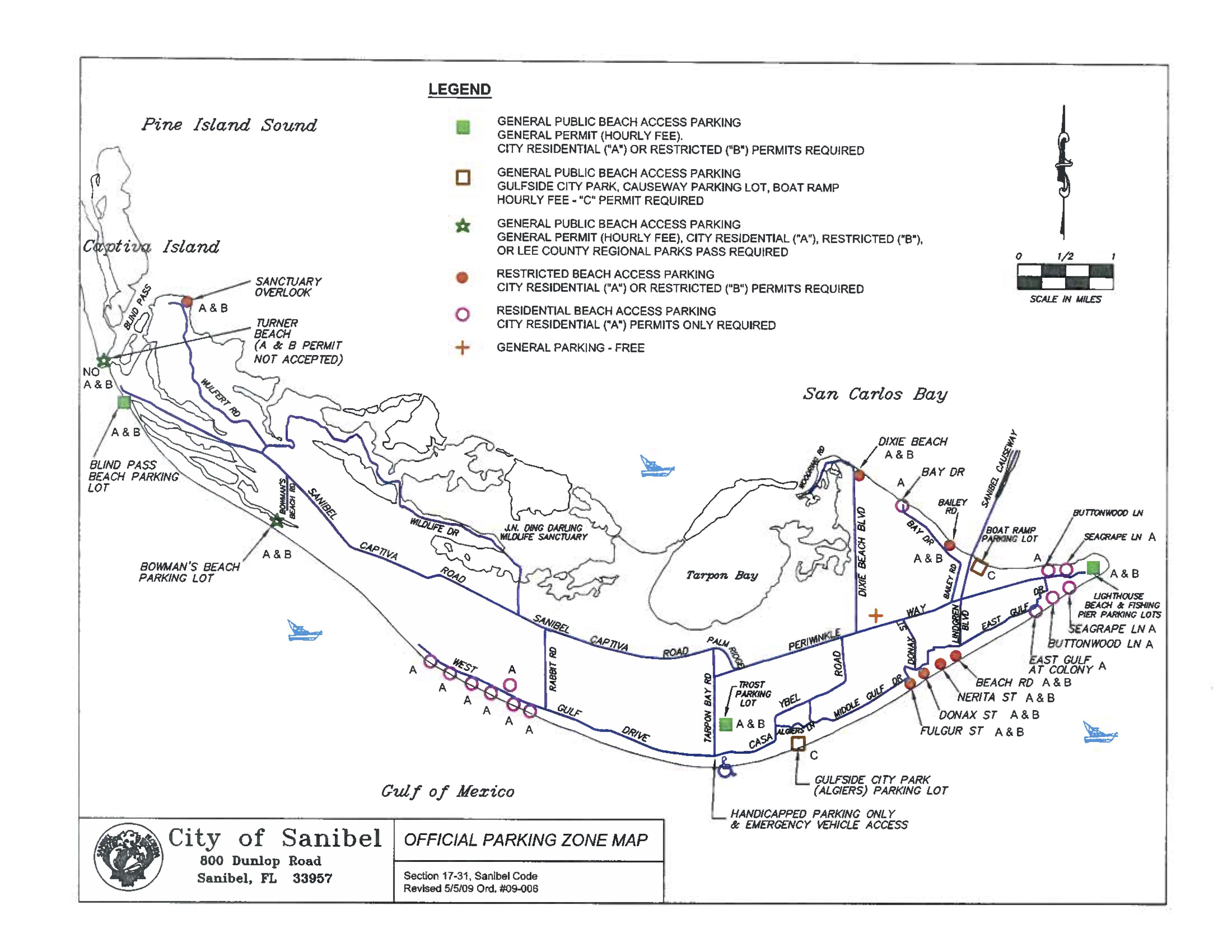 What about parking?
This is the Sanibel Beach parking map for the island beaches if you are just driving out for the day. Parking is $5 and hour and can be paid for with car or card. However, handicap parking is free.
Blind Pass Beach
Blind Pass Beach is located on the Sanibel Captiva border. There is parking on both sides of the Blind Pass Bridge. This area is more suited to shelling and fishing than swimming due to swift currents. While the Sanibel part of Blind Pass Beach has no restrooms, the Captiva side, at Turner Beach, has restroom and a public shower.
Bowman's Beach
Past the crowded Sanibel beaches by the hotels, is Bowman's Beach. The island beaches here have restrooms, changing rooms, in addition to an outdoor shower. My husband and I made this our first stop on our road trip to New Orleans several years ago. While this park has picnic tables and barbeque grills, we walked across the bridge to picnic and spend a few hours on the beach. This park also has nature trails and an area for launching canoes and kayaks. However, we only stopped for a couple hours before heading on to Tampa for the night so we didn't get to check out the nature trails.
Gulfside City Park
Gulfside City is located just past the hustle and bustle of the hotels and restaurants. This island beach has restrooms with an outdoor shower, picnic tables and grills, and bike racks.
Lighthouse Beach
This island beach is at the eastern end of the island before you hit the island beach resorts. Here you will see the historic lighthouse built in 1884. The Sanibel lighthouse is not open to the public, as it is still a functioning lighthouse. However, you can read about the history while exploring the boardwalk and nature trails or going fishing.
Does Sanibel Beach allow dogs?
It depends on which of the islands you are planning to visit. Captiva does not allow pets. However, Sanibel beaches do allow pets with certain restrictions. Pets must be kept on leashes and cleaned up after.
While beach vacations are inherently relaxing, which boosts our mental health, your hair might need a mental health day after all that sun and surf. Give your hair its own vacation with a hair spa day once you return home.
Donna Emperador is a travel and food blogger and copywriter. Donna believes in learning about different cultures while sharing good food and cocktails. She has lived in South Florida for over 20 years and enjoys spending time exploring the road to find unique places to share with readers. She can be found on Facebook, Instagram, and Pinterest.